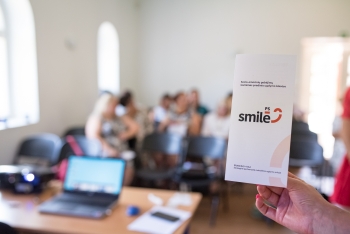 SEMINAR "Gate to the education of gifted child and the importance of social emotional education"
On the threshold of summer and autumn, on August 26, 2022, teachers, shool leaders, psychologists, parents gathered together in a cosy and inspiring environment, in the Botanical Garden, in Kaunas. The focus of the seminar was to update/improve their knowledge, to communicate with each other, to find inspiration returning to the educational process and studies with a smile.
The aim of this seminar is presentation of two Erasmus+ projects "PSsmile" (which aim is development of social emotional skills of schools communities, especially of primary education) and "GATE" (which aim is education of teachers who teach gifted children (8-12 y.o.)) as these projects complement each other because when we talk about gifted children it's very important to intensify social emotional skills.
During the seminar PSsmile project's results were presented, we talked about experiences, trends, and how developed results could be used in practice as well while working with gifted children.
Pedagogues, psychologists, cherishers of social emotional education, educators of gifted children and other educators in this field shared their knowledge and experience.
Vida Drąsutė, manager of both projects, introduced "PS.smile" project which aim is to improve the social emotional skills of adults and children forming united system that would improve human relationships, meaningful communication, perception, self-control, and system that would promote preservation and conservation of values, the social and emotional welfare of citizens. To achieve that goal the project prepared methodical material, a mobile application "PS smile" (downloadable from google play) and online learning course, tested activities which is devoted for primary school students to develop social and emotional skills, in addition trainings organized for pedagogues.
We are thankful for our guests:
Simonas Šabanovas, associate professor of Vilnius University, who reminded that there aren't untalented people and it all depends on what conditions we provide to reveal talents and it is also important to promote the development of creative and motivated personality.
Mindaugas Nefas, director of education at VMU Lyceum SOCRATUS who talked about learning which is based about competency and preparation to implement updated general programs end encouraged teachers to be open-minded and innovative. "This is not about something we haven't heard about, it's just another challenge that we definitely overcome because if we want that students will improve themselves, we have to do it as well. Innovation is unavoidable thing and in order to respond to the realities and actualities of each era we must accept changes and innovate acquired competences".
With competences-based curriculum is focused on the student, his needs and character oriented program which assure self-discovery. Society needs a program and a socialization of young people.
Dileta Tindžiulienė, the head of a Gifted children's center at VMU, who presented the center, the stages of selection, how are recognized gifted children and also talked about close collaboration with institutions of Israel that have more than 30 year's of experience in teaching gifted children and how we learn from them.
Kaunas "Ryto" elementary school deputy director for education Dovilė Rudelienė, psychologist Žydrūnė Jankauskienė, the teachers Reda Stasiukonienė, Laima Bagdonienė shared examples of good practise and presented participation of institution in the project "Disclosure of student's abilities and their development of education" supported by National Education Agency . The school was selected as one of ten schools in Lithuaniato participate in this project. The goals of this project are to create and develop the recognition of student's abilities and their development by enabling psychologists and teachers to recognize the student's abilities and choose the most suitable education for them. In addition, to create a system which would help for searching, identifying and educating gifted children.
The participats of the event were able to enjoy saxophone music, to communicate and discuss ideas, preparation for the new academic year.