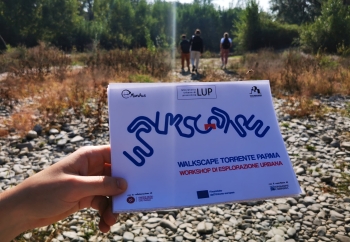 Walkscape in Parma - the way to explore, create and develop
Walkscape is the act of walking, taking a deeper look at three important moments of passage in art history, in which an experience linked to walking represented a turning point.
These are the passages from Dada to Surrealism (1921-1924), from the Lettrist International to the Situationist International (1956-1957), and from Minimal Art to Land Art (1966-1967).
Walkscapes deals with strolling as an architecture of landscape. Walking as an autonomous form of art, a primary act in the symbolic transformation of the territory, an aesthetic instrument of knowledge and a physical transformation of the 'negotiated' space, which is converted into an urban intervention. (Resource)
On the 5th – 10th October 2022 2 teams of Erasmus+ programme's Walkscapes project experienced Walkscape in Parma (Italy). Walkscape was organized by project's leading organization: Laboratorio Urbano di Prossimità (LUP).
This event consisted in a 5 days training, allowing partners to share experiences, lessons learned so far and to plan the activities that will follow, especially the actual "Walkscapes" that are at the core of the project. During this event, partners met in Parma and develeped together these activities:
analysed the results achieved after the completion of the previous project activities;
trained 8 members of the partnership (4 from eMundus and 4 from LUP) on the methodology
performed a Walkscape trial involving both partners and associated partners.
The Walkscape trial aimed to (i) test Walkscaping methodology internally, in order to optimize it before involving the target groups, (ii) presented the social, environmental, economic and urban issues affecting the city of Parma and compare them with the ones of Kaunas.
Day 1. Walkscaping: Technical induction by LUP and Urban Exploration of the Parma River
Itinerary curated by the Laboratorio Urbano di Prossimità – APS, with the architect Gabriele Nicoli
Day 2. Walkscapes – Walking as an aesthetic practice
Discussions with all partners together and Walkscape (2nd part) with the architect Gabriele Nicoli.
Day 3. Non-formal education course by e-Mundus and sharing of good practice related to walkscapes in Kaunas.
Day 4. Project management staff meeting to discuss the results and their development
Day 5. Feedback, ideas generation on previous experience of walkscape, evaluation.