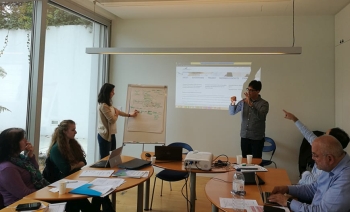 European Career Guidance and Counseling Meeting in Portugal
The partners of the international project Academia + (Counselors' Study and Training Exchange Program for European Labor Markets and Societies) met in Porto, Portugal, on 15-16 October, 2019.
The aim of the project is to improve the quality of training, to develop and offer resources for training and counseling, to promote the exchange of good practices and knowledge among the target audience of the project - European career guidance and counseling professionals (labor exchange consultants, migration consultants).
During the meeting, the project partners discussed the organizational issues of the international one-week training for career counselors, the development of curriculum content to address current challenges in the labor market, the development of electronic resources and the project's target audience.
Project partners:
University of Applied Labor Studies, Federal Employment Agency (Germany)
Applied Vocational Psychology and Policy Research Unit (AVOPP) (Luxembourg)
Sociedade Portuguesa de Inovacao - Consultadoria Empresarial e Fomento da Inovacao SA (Portugal)
Aspire Igen Group Limited (Great Britain)
Public Institution "eMundus" (Lithuania) - Technical Partner
Project Page: https://academiaplus.eu