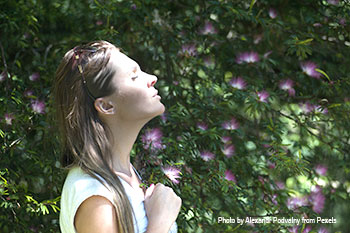 APRIL – STRESS AWARENESS MONTH
April is an awareness-raising month related to stress recognition, management and reduction. This themed month is organized to increase the awareness in society about the reasons for the modern stress epidemic and recoveries. The Network of Health Resources has declared April a stress awareness month in 1992. Even though 29 years have passed, there is still a long way to go. Statistics show, that 43 per cent of people experience stress in the workplace, 41 percent said that they feel stressed about their health, 40 percent of the Lithuanian population are feeling stressed about their financial situation.
Millions of people experience stress every day, which is gradually very detrimental to our health. Stress is one of the greatest public health challenges of our time but is still not taken as seriously as certain physical health problems. The main reasons for stress: feelings of fatigue and feelings of losing thought process, uncertainty and worrisome feeling of lost self-control, failures at the workplace, arguments with others. There are many reasons for stress, but each cause has its way of overcoming it. The most important thing is to learn to control yourself and to evaluate the situation objectively.
Step one: learning to say "NO" in situations, where you don't feel comfortable, in non-essential tasks, which are not mandatory or you don't want to carry them out, or maybe you just don't feel ready for them. Of course, it can look intimidating, but for every person, first of all, we must take care of our well-being, and only then, if there is some time and strength left, we can help others. It is suggested to set aside at least 10 minutes each day for yourself, for instance, for a favourite activity, for pleasure or just relaxation, changing the environment, for example, going to nature, to be with oneself "here and now"
Step two: proper breathing in stressful situations. Breathing is one of the three most important elements for a human life, in addition, there are two other elements, water and food. And all of these things are related, for example, in a stressful situation a cup of water for a person, or people who are always feeling stress, they experience emotional eating/fasting or constantly eating or stopping eating. Breathing out of all of these mentioned things remains the strongest and indeed closely related to the emotional state and physiological processes in the body, that is why it's important to know that oxygen consists of over %65 of the human body. The human body can endure few weeks without food, few days without water, but only a few minutes without oxygen. To ensure, that the body is well supplied with oxygen, it is vital, that to supply each body cell with oxygen, so it can work optimally and help the body to regenerate and for signs of stress to disappear. Only proper breathing can ensure the optimal supply of oxygen in the body. If a person is experiencing high levels of stress and respiratory failure or inability to properly breathe, we suggest doing suitable breathing exercises which will help to calm down in stressful situations (The 4-7-8 method helps the majority of people, especially if it's practised daily and not only while feeling stressed), the breathing with the help of handbreadth fingers for children are frequently helpful. The internet also provides other examples of effective breathing techniques.) Once you have learned to breathe properly, we suggest using these or other chosen exercises in stressful situations, and if you practice them frequently, you will experience stress less and less frequently.
So if stress is unavoidable in your daily routine, there are three important steps in stress management: take time for yourself, breathe deeply and drink plenty of water. Taking care of yourself is not just maintaining a good physical shape, but it's also having a wholesome diet, time for yourself, and maintaining good emotional well-being.