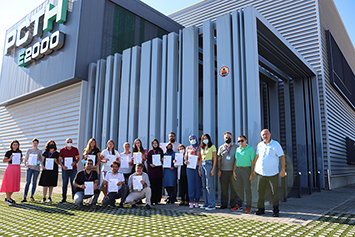 IT IS NEVER TOO LATE TO LEARN – TEACHERS IMPROVED THEIR IT COMPETENCIES IN AN INTERNATIONAL ENVIRONMENT!
The "eMundus" team, in cooperation with the teachers of Kaunas school-kindergarten Šviesa, has just returned with new inspiration, motivation and a drive to work. On September 13-17, the participants were improving their competencies in a five-day training course "App Inventor and Arduino projects course". The training took place in an international team and was organized in Huelva, Spain, as part of the international Erasmus+ project "Code Your Future". The project aims to develop IT competencies of the teachers and integrate IT lessons into primary education. The training was organized by the project partners – the vocational training center "Intercia Digital".
Teachers from Romania and Turkey took part in the training as well. Participants had the opportunity not only to get to know each other, have some conversations and get to know each other's education system and culture, but also to share best practices and experiences in educating primary school students, as well as discuss challenges and solutions of it.
The aim of this training was to provide participants with the basics of programming using the mobile application development platform "App Inventor" and "Arduino" programming environment. Project "Code Your Future" aims to help educators and teachers understand basic computer and programming ideas, as well as develop basic problem-solving and project development skills. Another aim of the project is to help integrate the main programming tools into the educational process, thus increasing students' versatility and creativity in solving real-world problems.
Teachers learned the basic principles of programming and learned how they can be applied in the educational process.
Project website: https://codeyourfuture.eu/
More about the project in Lithuanian >>