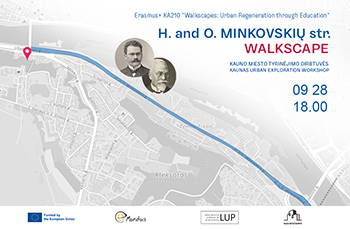 H. and O. MINKOVSKIAI STREET WALKSCAPE - KAUNAS URBAN EXPLORATION WORKSHOP
In the framewrok of Erasmus+ project "Walkscapes: Urban Regeneration through Education" eMundus invites you to a tour of Kaunas H.and O. Minkovskiai street.
During the tour we will look for the physical signs, that survived to this day, artefacts of the city's identity, testifying the past history of Kaunas, and reflect on the ongoing urban changes in Aleksotas.
We will learn about the Minkowski brothers of Jewish origin: the biologist who discovered what causes diabetes and the mathematician who developed the theory of geometric numbers.
We will explore the street spaces from a pedestrian perspective and discuss the challenges of the planned extensive development of the district and how to preserve the potential of the area. In simple terms, why people might want to live in Aleksotas rather than Šančiai or Vilijampolė.
We will take a closer look at the development of Nemunaičiai, a new residential project (architect R. Palekas studio), the oldest industrial heritage of the Aleksotas - the mill and finally we will see the mysterious, rarely visited Jewish cemetery surrounded by the railway tracks.
Date: 28th September at 18:00
Start meeting point - the lower station of the Aleksotas funicular (Veiverių str.30)
Duration of the tour approx. 2 hours.
The tour will be in English.
More about the project >>

Project website: http://walkscapes.emundus.lt/