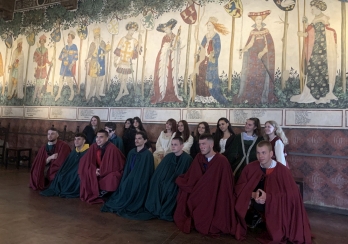 DIGICULT – Cultural Heritage: a source of resilience and learning through digital education
On the 12-16 June, 2023, VšĮ "eMundus" DigiCult international project coordinator Carlotta Maria Crippa and the students of the project's associated partner institution - Kėdainiai Vocational Training Center (KPRC) together with the English language teacher participated in the training held in Turin, Italy.
During the training, together with other participants from Italy, Ireland, Croatia, Cyprus, Sweden, team learned about cultural heritage objects using digital education and live visits to certain objects.
The purpose of the DigiCult project is to deepen and discuss the strategies of creating cultural heritage using digital techniques, to show and discover the attractiveness of hidden cultural heritage that can become accessible to visitors due to the use of innovative technologies.
Through its activities, the project connects various non-formal education institutions and vocational education training centers in European countries.
KPRC students test the digital learning platform about cultural heritage created during the project, share insights and acquired experience with other training participants, gain new knowledge and deepen competences and skills.
The students of the vocational training centers are the main target group of the project, so during the implementation of the project
VšĮ "eMundus" as a non-formal education institution cooperates with other educational institutions in Lithuania in order to achieve the quality of results, feedback and sustainability by using them after the end of the project.
In order to implement the goals of the project, activities were organized for the students during training in cultural heritage objects - the royal Racconigi Castle, Castello della Manta, Palazzo Madama. This activity was a great opportunity not only to get to know Italian cultural heritage objects, but also to see how digital technologies help to preserve them.
Training was organized by partner institution - Fondo Ambiente Italiano (FAI) https://fondoambiente.it/ (IT)
More about project coudl be found here: digiculterasmus.eu