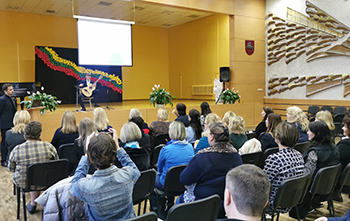 ADVANTAGES OF BILINGUALISM AND MULTILINGUALISM AND INTEGRATION IN THE EDUCATIONAL PROCESS
In 2023 March 31 about half a dozen pedagogues and administration of Lithuanian educational institutions gathered at the publicizing conference of the results of the "Erasmus+" program project "BIMO: BILINGUAL IN A MONOLOGICAL ENVIRONMENT", which was organized by Jonas and Petros Vileišiai School in Kaunas during the implementation of this project and VšĮ "eMundus", which participated in the project as an associate partner, responsible for project dissemination and organizational processes.
Bilingualism or multilingualism is beneficial for several reasons. First, it helps to better understand other cultures and communicate with people of other languages. Second, it improves human cognitive abilities, such as problem solving and creativity. Thirdly, bilingualism improves memory and thinking processes, as you need to constantly switch between languages and the brain is additionally trained. Fourth, knowledge of other languages, their proficiency can be useful in your career. Finally, bilingualism is useful for personal development and self-realization, because it helps to see the world from a different angle, to communicate, to understand other nations, and it also shapes our openness, flexibility, perception and attitude towards the world.
The goal of the BiMo project is to help school leaders and teachers expand the views, opinions and needs of parents in monolingual communities where bilingual education programs are implemented, as well as to create a common connection/alliance with societies with greater experience of everyday bilingualism and bilingual education.
The conference was opened by the musical language of the student Andrius and the English song of the student Brigita playing the guitar. During the event, participants got acquainted with the presentation and results of the "BiMo" (orig. Bilingualism in Monolingual Contexts) project: the value and promotion of bilingualism in education, the need and influences on education specialists, educators and their families. The methods and good experiences of Lithuanian, Romanian, Italian and Spanish partners were also presented, which will help to integrate bilingualism more easily into the educational process.
One of the speakers at the conference was an Italian woman whose presentation was in Lithuanian, who was brought to Lithuania by science and who, during the 7 years spent in Lithuania, speaks Lithuanian perfectly, works at KTU, is studying for a doctorate and communicates boldly and improves her competences and linguistic knowledge.
During the conference, speakers and external experts paid great attention to the sharing of bilingualism results and methods, as well as good practices, in order to help Lithuanian education specialists systematically use the project results, including them in the daily organization of the teaching process, optimizing the dissemination of good practice in the educational process.
Interesting facts about languages:
• There are between 6,000 and 7,000 languages spoken by 7 billion people in 189 independent countries.
• There are 225 indigenous languages in Europe, but this is only 3 percent of the world's languages.
• At least half of the world's population is bilingual or multilingual, meaning they know two or more languages.
All project-related results and online courses are available on the project website: bimo.pixel-online.org